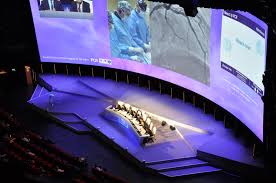 The EuroPCR was represented by APC Cardiovascular Ltd  by Stephen Law-Lyons and Steve Mordecai the official congress of the EAPCI (European Association of Percutaneous Cardiovascular Intervention) which took place 16-19th May at the Convention Centre in Paris.
There were 11,588 participants from 115 countries. The meeting drew together Cath Lab Doctors, Nurses, Allied Professionals and Industry Representatives for 4 days of lectures, presentations and live cases alongside an exhibition that extended to two floors of the congress centre. Live cases were broadcast from a dozen cath labs including 2 in the UK – Bristol Heart Institute with Drs Baumbach, Hanratty, Johnson and Strange and St. Thomas' Hospital London with Drs Prendergast and Redwood.
There were 120 plus companies from the pharmaceutical industry to device and equipment manufacturers, showcasing new products and R&D projects. Stephen Law- Lyons and Steve Mordecai attended the four day event to scope out some new products and innovations in the field
WIT (Radpad), SMT (Supraflex) and Qualimed (new Peripheral Interventional products) all had stands in the Exhibition area. Stephen and Steve spent time on each of these as well as sitting in on a meeting for investigators in the upcoming "TALENT" European randomised trial for Supraflex vs Xience stents (Thin Strut Sirolimus Eluting Stent in All comers Population vs Everolimus Eluting Stent). The meeting was moderated by Professor P.W. Serruys (Rotterdam) and presentations were given by Marie-Angel Morel from Cardialysis, the Clinical Research Organisation managing the study and Ganesh Sabat, CEO at SMT. Attendees included Professor Zaman (Freeman Hospital Newcastle) and European Key Opinion Leaders including Dr Antonio Colombo (Milan), a leading author on drug eluting stent research. In a comment from the floor, Professor Zaman gave a good report of his experience with Supraflex, including deliverability.
Stephen and Steve also attended a meeting organised by Qualimed for physicians and distributors where the company outlined its strategy for new product development and their vision for miniaturisation (downsizing catheter outer diameter) in Peripheral Interventional procedures.
Stephen and Steve also met with representatives of companies with new technology seeking UK distribution, as well as attending a few lectures on relevant topics like radiation protection, including one where radio-protective shields (Radpad) were featured in a talk about reducing first and second operator exposure to scatter radiation by a Dr from Sydney, Australia.
The EuroPCR 2016 Great Debate – extending TAVI to low risk patients, led by EAPCI President Professor Stephan Windecker (Bern, Switzerland) argued that TAVI is not only a less-invasive therapy in comparison to surgical aortic valve replacement, but also superior in all respects including all-cause of mortality, and should be extended outside of patients who are at high risk for surgery. Other trials and talks came to the same conclusion and a takeaway for Steve and Stephen was that TAVI is set to grow fast. Only funding, in the UK at least, appears to be holding it back. That is great news for Radpad and other products used in valve procedures.